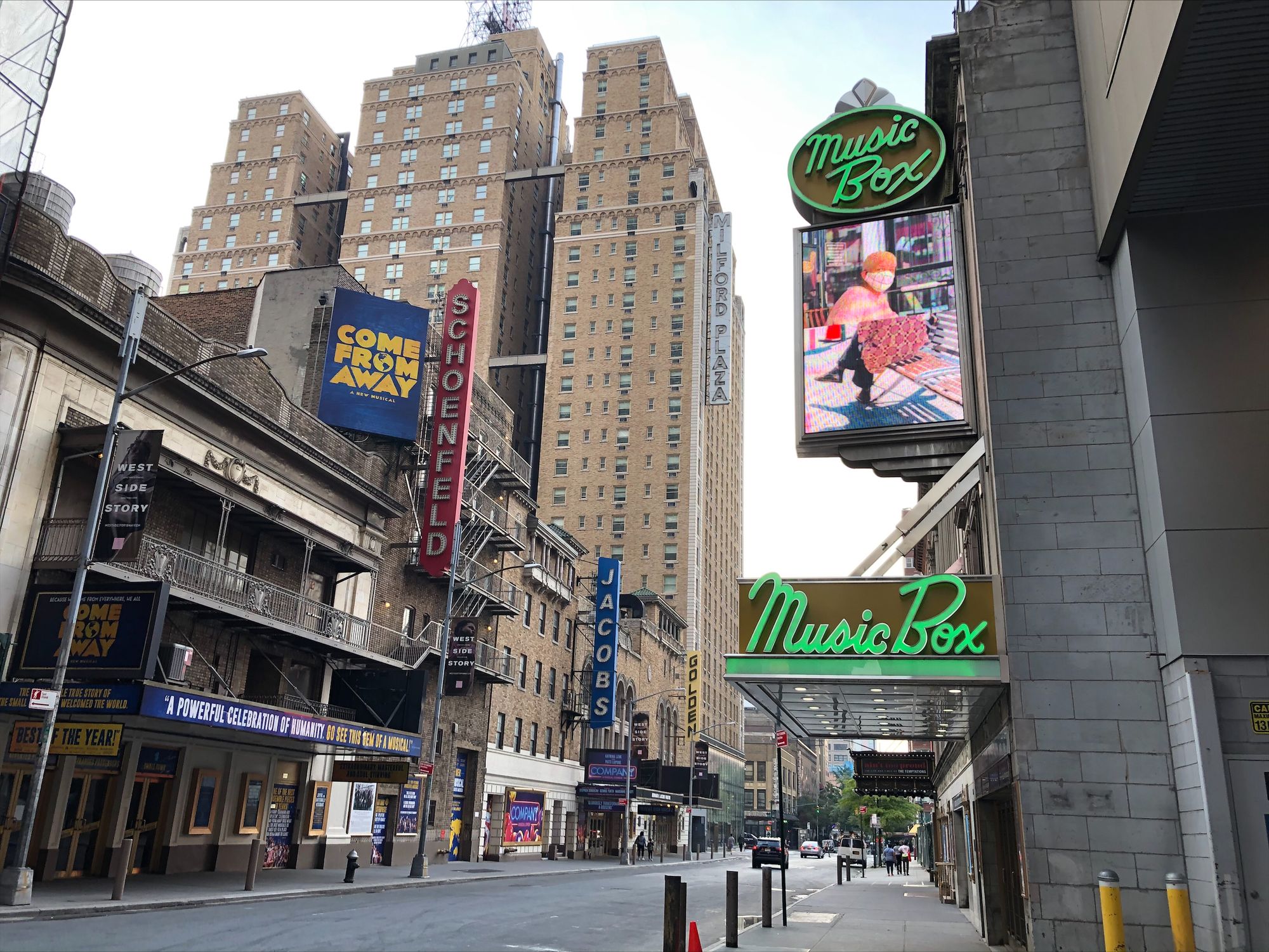 There is nothing like the experience of seeing your first Broadway show. Stepping into a theater and seeing a stage for the first time is so thrilling. You are surrounded by many lovely showbiz staff (Covid safety teams, box office staff, ushers, and concessions and merchandise sellers) as well as other theater-goers who are just as excited to be there as you. It is highly recommended to go downstairs to use the bathroom while stopping to eye the items at the merchandise booth (a shirt or sweater with the show's logo, a tote of the show, a coffee table book or more) that you may or may not buy.  To remember your experience, you can take photos of different parts of the theater–the chandeliers, details on the walls, the stage–and the iconic "Playbill photo" is a must. Seeing the actors on stage deliver their poignant dialogue, sing moving songs, and dance energetic numbers will elicit many different emotions in you. You can laugh at a joke an actor says, then cry at a song that moves you and get energized by the ensemble dancing. This is an experience that will change you and that you will always remember, but it is one that is privileged since not everyone has access to live theater and Broadway.
I am fortunate to be a born and raised New Yorker, so I've been going to Broadway occasionally throughout my childhood with more frequent visits now as an adult. At five years old, my first show was Beauty and the Beast in 2006, which was based on the 1991 movie with music by Alan Menken, Howard Ashman, and Tim Rice, and a book by Linda Woolverton. I can't remember my first time inside a theater since I was so little, so that moment is not profound for me like it is for most people. The second show I saw on Broadway was Hairspray, which has music by Marc Shaiman and a book by Thomas Meehan and Mark O'Donnell. It was the first musical I loved and got obsessed with after me and my sister saw the movie. We dressed up as Tracy Turnblad in her shiny pink "Welcome to the 60's" outfit for Halloween in dresses that my mom and grandma made for us, we listened to the soundtrack in cars on many road trips, and my parents even took us to see the musical in our costumes. I can only remember a few moments from the show that I noticed were different from the movie, like how the costumes in "Welcome to the 60's" are full of patterns instead of shiny and pink, and seeing Tracy in jail instead of the room in Penny's house basement. Even though this was not my first Broadway show, it was a special trip to the theater for me. I've been a fan and longtime attendee of showbiz  throughout my life since those first two experiences, so I know a lot about this artform.
The world is not centered around Broadway and people in different parts of the globe have their own access to different kinds of theater while others might not. If you are reading this and don't know much about the stage, well, you've come to the right place. I am here to teach you how you can discover theater from your own living room. The first place to go is the internet, but if you don't know what you're looking for then it may be tricky. For a showbiz newbie, musical theater playlists on Spotify are the way to start. This will help you get a taste of many musicals and how different they sound based on the time periods in which they were created. I made a playlist on Spotify of my favorite songs from different musicals, which I enjoy listening to all the time and makes me so happy:
Once you dive into that playlist, certain songs will stand out to you, making you intrigued to hear more, so listening to the full cast albums of these shows is next.
When the industry shut down in 2020, I felt lost without access to live theater, so I decided to discover musicals I had never listened to before. I found many cast albums on Spotify and I enjoyed a lot of them, especially Spring Awakening, which I immediately loved:
Spring Awakening was created by Steven Sater and Duncan Sheik. The original Spring Awakening cast album quickly became my obsession that I listened to on repeat and when you too find a musical that you can't stop listening to, you've officially become a theater fan. Welcome to the nerdiest club in town! I promise we are a fun group of people who occasionally have strong opinions about musicals, plays, and actors we like, and we use theater references in daily life, but we are also very inviting to newbies.
YouTube is another showbiz fan's favorite website. It is filled with many theater videos, interviews of cast members, performances from live TV, show videos, and even bootlegs (but ssshhh... don't tell anyone about the bootlegs you find–just watch them in secrecy). What's fun about bootlegs are the silly titles they are given. Most of the time, their code name is "Slime Tutorial," such as "A Friendly DJ Slime Tutorial."
Some even have cover photos of slime in colors appropriate to the show, so Mean Girls is pink slime and Heathers is green, yellow and red slime.
This is a way to disguise the illegal bootlegs that sometimes get taken down from YouTube and are re-uploaded again and again, which is the case with a bootleg of Dear Evan Hansen that has the original Broadway cast (every DEH fan knows of that one bootleg). I found some "slime tutorials" of the original Broadway and Deaf West revival productions of Spring Awakening from 2006 and 2015. These don't have the typical code names and instead are called "SA" followed by the date of the performance and with cover photos of the actual show.
I was too young to see these productions when they were running, so these bootlegs are great for me. They are also useful for you if you can't go to New York to see Broadway shows or if a show you like has closed. With the bootleg, I was able to dive deeper into the musical and learn more about its plot and staging that I couldn't get from reading an online synopsis. I was intrigued by the mix of the 1890's time period of Germany that is apparent in the costumes mixed with modernity seen by the mics the characters use to sing in and the songs that mention "I go up to my room, turn the stereo on" ("My Junk") and "With the flick of the light" ("The Mirror-Blue Night").
It was fun seeing some actors I know in one of their first roles, like Jonathan Groff and Lea Michelle. The show has heavy subject matter, including child abuse, teenage hormones and sex, abortion, pressures of school, and suicide, which shocked me at first. But I felt it was all done well, and it didn't surprise me as much with Deaf West production. That bootleg made me love Spring Awakening to a whole new level, which can happen to you too with a certain bootleg of a certain production of a show you like. I was immediately captivated by the whole acting and staging of deaf and hearing actors, which is something I have never seen before in theater. I was also impressed at how much sign language was in the show and how it was incorporated into the choreography. The deaf actors would sign all their lines and songs while their hearing counterparts would speak and sing as well as play an instrument. The other hearing actors would speak and sing while signing everything, so they had to learn sign language, which seems hard. I was moved throughout the whole show because I didn't know how beautiful sign language is or that deaf actors could perform in musicals. I found a new appreciation for this musical and as I watched, I even tried to copy some of the sign language. At one point, I was so moved that I cried. This shows how it doesn't just take going to see a musical live in a theater to make an impact on you, but bootlegs can also do the same. That bootleg I watched has since been removed from YouTube, but I found a playlist of videos of all the songs from the production that I recommend watching. It's okay if Spring Awakening is not a show for you and if you don't like it. It's just my example of a show I discovered completely through the internet that I fell in love with. You should find your own musical to come to love deeply.
As well as seeing some bootlegs, you can look for other videos of the musicals you love and get lost in the rabbit hole that is YouTube. I did this with Spring Awakening videos, especially videos of the Deaf West Theater show. I watched all the interviews I could find and every TV appearance of the cast. I came across a video of the cast performing "Touch Me" on the Seth Meyers show. This is my favorite song in the show because it's the prettiest ballad with great lyrics, like, "Only hymns upon your lips/ A mystic wisdom, rising with them to shore." The song is about the teenage characters discovering sexual feelings while being intimate with themselves and one another. This can be seen in the way the actors touch themselves and each other through their sign language and choreography, which makes for a gorgeous staging of the number that is vastly different from the original show. This video is so moving and made me cry when I first saw it, just like I did when I saw the bootleg. I watch this video all the time, and it always makes me so happy. When you become obsessed with a musical, like I was with Spring Awakening in 2020, you too might find a video of a performance from the show that you love so strongly and can't stop watching.
When Broadway came back in September 2021, I vowed to see many more shows. I saw musicals that I didn't get to see before the shutdown and some of them are now on my list of  favorite shows. After not having that artform for a year and a half, I have a new understanding of what you showbiz fans who don't live in New York, London, or any theater-heavy city experience. Anyone can be a theater fan at any level. I used to be a casual fan that occasionally went to see shows and now I'm a big fan that has met many actors and goes to see Broadway shows all the time. Maybe someday, that will be you too or maybe you'll just stay a casual fan. Theater is an artform, and Broadway is an industry for everyone.
---
Elisa Kluger likes to write in her free time, creating poems and stories that will later become full books. She is also currently a student blogger for BroadwayWorld, where she can merge her passion for writing and her love for theater. She enjoys writing about what she loves and creating fictional stories that she hopes will make people enjoy reading.