"They are vandals, ungrateful youth that does not know how to forgive."
This condescending, condeming statement was countlessly repeated by an aging generation that had been raised on loyalty and partisanship. Meanwhile, the new generation that had been raised under corrupt after corrupt government grew unrelenting and demanding.
The summer of 2019 the Puerto Rican people decided they had had enough. The streets were plastered with graffiti that painted the governor in a villainous, joker-style disguise; blood stretching from the upper lip through the dimples, a pale white face, and a heading that read: "RICKY = CROOKED". The streets of Old San Juan were flooded day and night with thousands of protestors chanting "Fight, YES, surrender, NO" demanding his resignation, and the humid July air brought tension from the coast to the mountains with each salt-filled gust.
For decades the Puerto Rican political system has resembled a ceaseless game of ping-pong, the New Progressive Party (PNP), and the Popular Democratic Party (PPD) have always been in the lead, throwing the power back and forth with each new election. What differences one from the other is simple, the PNP stands for statehood and the PPD for the island's current relationship with the United States, a commonwealth. And although their ideals are different, crime, wrongdoing, and resentment unifies and trails behind them through every term.
Of the twelve elected governors Puerto Rico has had since its first election in 1948, many have managed to make headlines with corruption charges. Former PNP governor Pedro Rosselló (father of 2016-elected Ricardo Rosselló) had crisis rock his administration when it was accused of illegal appropriation, document falsification, and ill management of public funds. It was the dawn of the first of many criminal accusations to be made against a Puerto Rican governor. Pedro Rosselló surfed the wave of investigations with the famous phrase "Yo no sabia nada" or "I knew nothing" and was absolved of all charges for lack of evidence. He walked out of the courthouse with a smile so wide and hypnotizing, it resembled the one his son now bared on the graffitied walls. Yet while he claimed innocence, countless government officials and contractors under his command saw themselves convicted.
The stained shoes he left were almost seamlessly filled by PPD candidate Aníbal Acevedo Vilá in 2004. Acevedo Vilá faced 19 criminal federal charges for irregularities in his political campaign's fund management, including conspiracy to deceive the IRS and giving false testimonies to the FBI. Twelve members of his administration were also accused, and while partisan ideologies placed him at ends with Pedro Rosselló, he aped his predecessor's escape tactic and claimed he had no idea of what was happening under his direction. He was eventually found not guilty of all charges.
Fifteen years after Pedro Rosselló's governance, his son, "Ricky", won the 2016 election with the PNP by a 2.8% margin with 42% of the votes. The day after, the newspaper El Nuevo Día showcased in their front-page a young man who stroke much physical resemblance to his father. The headline read "ROSSELLÓ WINS THE GOVERNORSHIP"; he was standing on the stage, the background raining blue confetti, his arms in the air, and his fists clutched tightly. Gazing at the sky his smile was wide and genuine, one that would slowly fade as the years went by.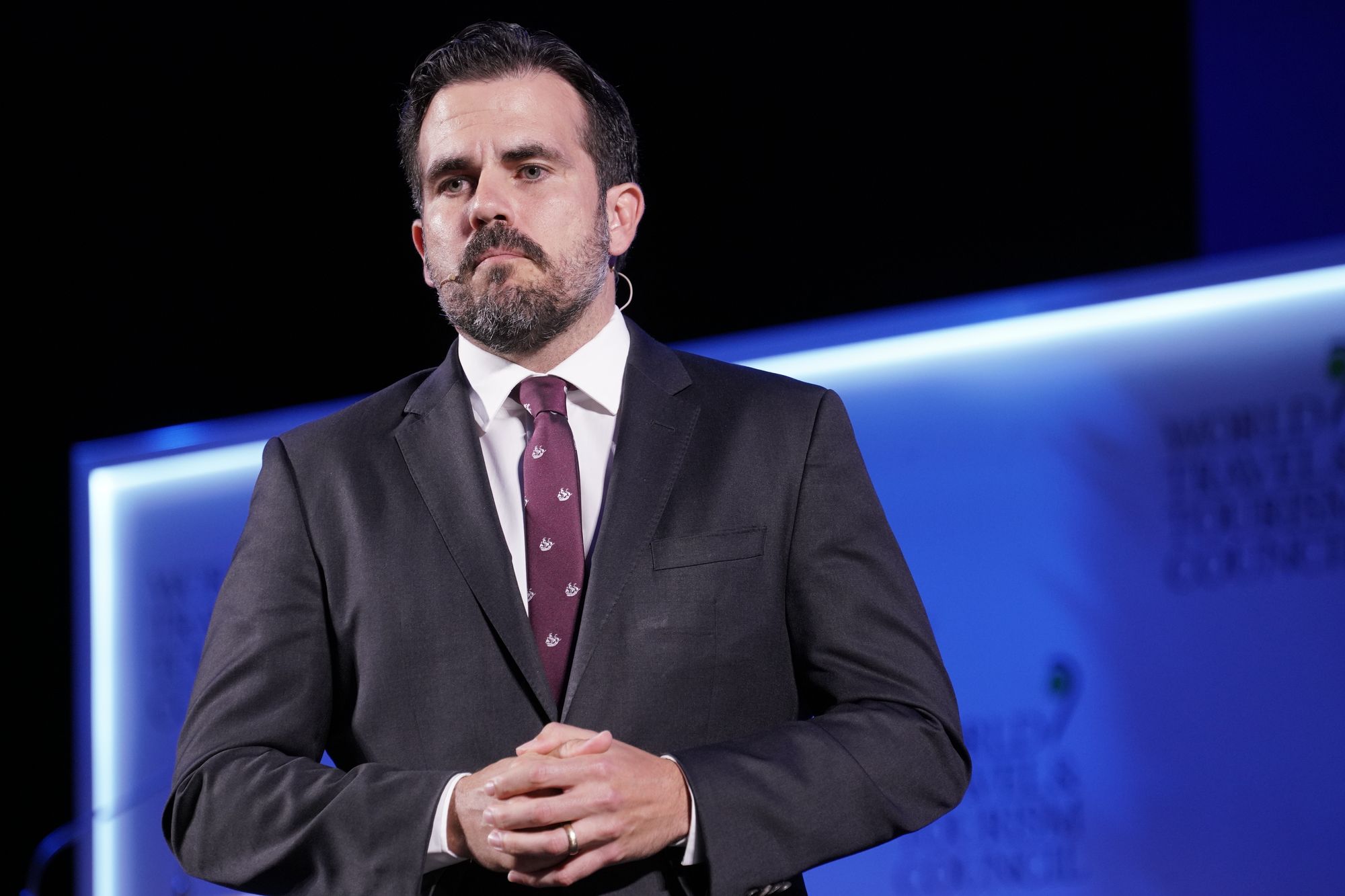 Eager to make his father proud and leave behind a legacy, Rosselló waltzed into a government with a debt of $72 billion on an island that had been in recession since 2006. The debt had seen its biggest increase during his father's administration, when it went up by $12 million, almost $26 million today. Rosselló's forerunner, Alejandro García Padilla said in an interview with the New York Times in 2015 that the debt had gotten to the point where it could not be paid back and that it was "not a matter of politics, but of mathematics". The government was insolvent but federal laws forbid U.S commonwealths from declaring bankruptcy. There was much to be done and no time to waste.  That same year, 45% of the island's inhabitants were already living below the poverty line. Rosselló, an M.I.T biomedical engineer graduate, made the economy his first order of business.
Seeking help from the federal government, Puerto Rico sought after a bill named PROMESA; Spanish for promise. With some citizens outraged and others placing their trust in the hands of those elected, the Puerto Rico Oversight, Management and Economic Stability Act was presented as the only viable option in an attempt to stop the financial crisis. And so an independent fiscal board of seven members appointed by the president was created to restructure the island's economy. Becoming the highest power of authority, it would have complete control over Puerto Rico's budget, laws, financial plans, and regulations. It would have the jurisdiction to overrule any executive order made by the governor and veto any laws approved by the legislature.
The 2016 election appeared to render itself pointless and the votes that were given to Rosselló now seemed meaningless. An unelected group whose primary concern was the economic position of the island was now in charge. They could implement any measures of austerity without worrying about the consequences they would bring on the social and cultural spectrums. The spirit of democracy was shattered, the Rosselló administration was the face of the government but their voice was nothing more than an echo. The discontent that had been dormant since his victory, began to rise.
Less than a year had passed when in September 2017 Hurricane Maria swept over Puerto Rico. It was the worst natural disaster to hit the island in almost a century; in just hours the U.S territory became a cemetery of homes, hope, and lost lives. Empty promises made to suffering citizens made their way by word of mouth or radio over the 78 municipalities. Rosselló was dealt a bad hand, he bluffed for as long as he could, but his fold was inevitable. His attempt to maintain an image of optimism and progress was challenged by crude realism.
The administration vowed electricity would be reestablished for 95% of the clients towards the end of December but power would not come back for months, with some waiting until August of the following year to be able to put food in their refrigerators. Water was the hardest to come by; buckets were lined up in backyards with people praying for the rain that had ceaselessly seeped through their roofs weeks before to come back. Months later, thousands of water bottles issued by FEMA were found on an airport's runway in Ceiba. Two years later, tens of thousands were found in a field in Dorado.
Rosselló and his administration stood by a 64-person death toll for as long as they could, but enraged citizens refused to accept a figure that was paradoxical to what they were living. With strong opposition growing unavoidable, the Rosselló administration commissioned a study to George Washington University which concluded that the lives lost were not 64 but 2,975. The number was accepted by the government and is stated as the official death toll, yet a study conducted by Harvard University concluded the number had been exponentially higher. The people grew restless and help was too slow to come, so much so that hundreds of thousands fled the island, and what was left of Puerto Rico was a ticking time bomb. The debt loomed larger than ever before, damage from the hurricane exceeded $90 million and the tension between the government and the people stretched through every corner of the island.
The resentment and anger towards the Rosselló administration were left brewing. The second half of 2018 saw the shut-down of over 200 schools led by the now ex-secretary of education Julia Keleher in an attempt to cut down spending and reach the budget established by the PROMESA board. After months of strong disapproval from the residents of Puerto Rico, she presented her resignation in April 2019. To the comfort of many and surprise of few, July came and Keleher was arrested, along with the director of the Health Insurance Administration, and four other government officials charged with fraud, robbery, and money laundering. And just as Rosselló was moments away from quoting his father and saying, "I knew nothing", all hell broke loose.
889 pages of a Telegram chat between the governor and twelve of his most trusted men were leaked. In the bliss of his privacy, Rosselló expressed himself in the most colloquial and derogatory manner. The sexist, chauvinistic, misogynistic, and homophobic content spread like wildfire. He cursed and ridiculed journalists, celebrities, and politicians. Toying with disinformation, he ordered his men to activate people they had on-call to vote in unofficial polls, favoring his administration. Online trolls were sent to discredit or attack those in the opposing sides or those inside the party that challenged his views.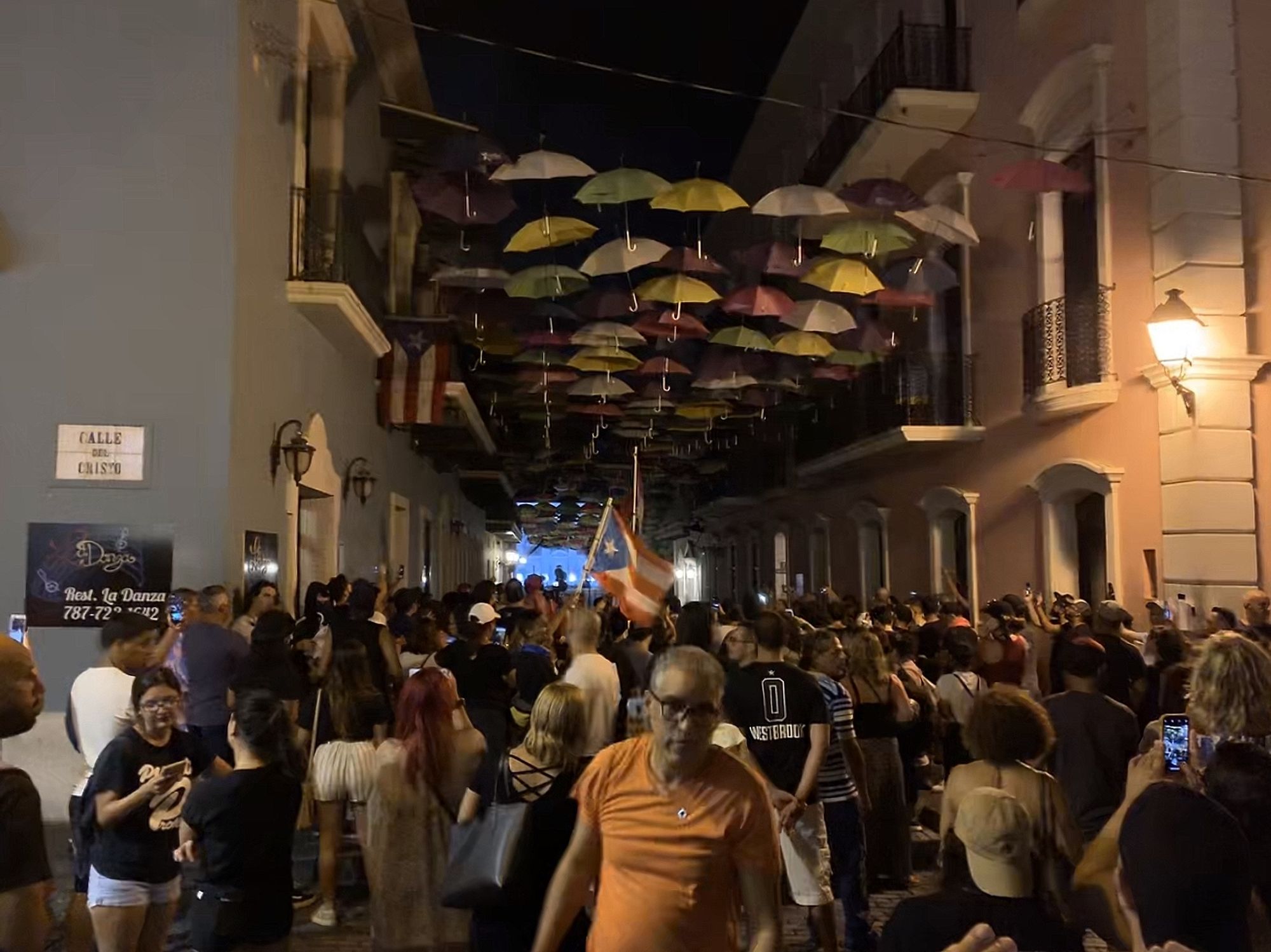 On July 13 hundreds of protestors started gathering in Old San Juan. In an Arab Spring manner, the protests were fueled and led by social media. The Twitter hashtag #RickyRenuncia (#RickyResign) was trending in Puerto Rico and the mainland United States. Citizens were urging people to go out and demand Rosselló's resignation. On the cobblestone streets in front of the governor's mansion, La Fortaleza, stood an orange barricade and behind it, policemen with bulletproof vests and shielded masks. Puerto Rican flags of all sizes were waved among the crowd and signs held up by protestors read "When those above lose their shame, the ones below lose their respect".
By the time Rosselló apologized and vowed to not seek reelection, it was too late. The protests had gained momentum and if he would not step down, neither would the people. On July 17, an estimated 100,000 gathered in front of the Capitol and marched through the streets of Old San Juan. Puerto Rican artists Bad Bunny, Ricky Martin, and Benicio del Toro stood along-side the masses and a caravan of almost 4,000 motorcycles crowded the streets. Twitter was flooded with pictures of gatherings in New York, Madrid, Boston, and other cities, holding up signs and waving flags in solidarity. The summer sun burned bright that day, but it was not enough to stop the crowd from growing; as nighttime fell and the sky darkened, the heat only intensified.
The plastic divisions in front of La Fortaleza had been exchanged for concrete barrier blocks. The blue policemen behind it had traded their uniforms for black military suits and riot shields. Water bottles and objects were thrown at the police, some protestors stood on the barricades, while others pushed and tore some down. The chanting grew louder "We are more, and we are not afraid". Pyrotechnics were thrown by the protestors; tear gas and rubber bullets came from the other side. A car burned beside the picturesque Spanish houses that were now covered in graffiti. Cameramen and journalists were injured, citizens detained, and Rosselló was nowhere to be seen. His silence was fuel to a raging fire.
Five days later, Puerto Rico was paralyzed with an island-wide strike. This time, more than half a million marched and shut down the highway Las Americas in San Juan. Puerto Rico had taken Rosselló to the public court and they had deemed him guilty, his sentence was his resignation. The front page of El Nuevo Día pictured the same man that had celebrated his victory almost three years earlier. But now, his smile had faded; he looked older, not from age but from the weight on his shoulders, and his body was stiff. The headline that had once welcomed him now read "GOVERNOR IT'S TIME TO LISTEN TO YOUR PEOPLE: YOU MUST RESIGN".
On July 24 at 11:40 pm Rosselló announced he was stepping down through a pre-recorded video online. He thanked those who stood by him and recounted his administration's achievements. In fifteen minutes, he became the first governor to resign in the history of Puerto Rico. The rumors of his resignation had spread, and the streets were crowded, not of protestors but of united citizens watching his last message. Every bar, restaurant, and establishment on the island had Rosselló's face on their screens. For the first time in almost two weeks of anger and rebellion, the people celebrated. The generation that did not know how to forgive was born from the unforgivable. "We can fool even our own people", Rosselló had typed in the Telegram chat months before. Now, the fools had risen.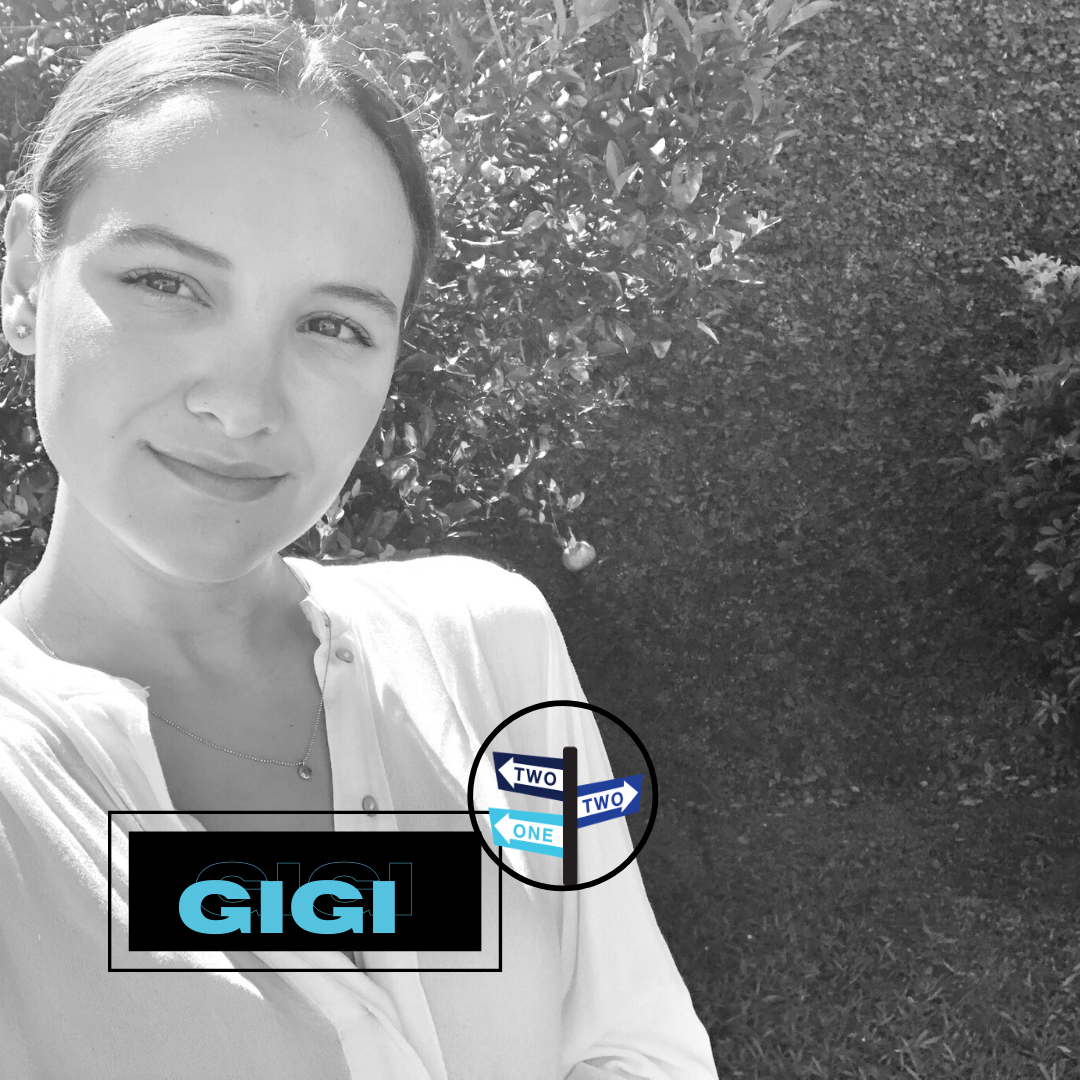 Gigi Zamora, contributor and staff member, is a senior Digital Journalism/Communication Arts major. Coming to New York from Puerto Rico to pursue her passion for writing, she hopes to shed light on the struggles faced by Latin American countries. Her areas of focus are literature, film, and politics!