Francesca Crumpton
10/17/2021
          Justin Santana Torres on Racial Injustice within Performing Arts Schools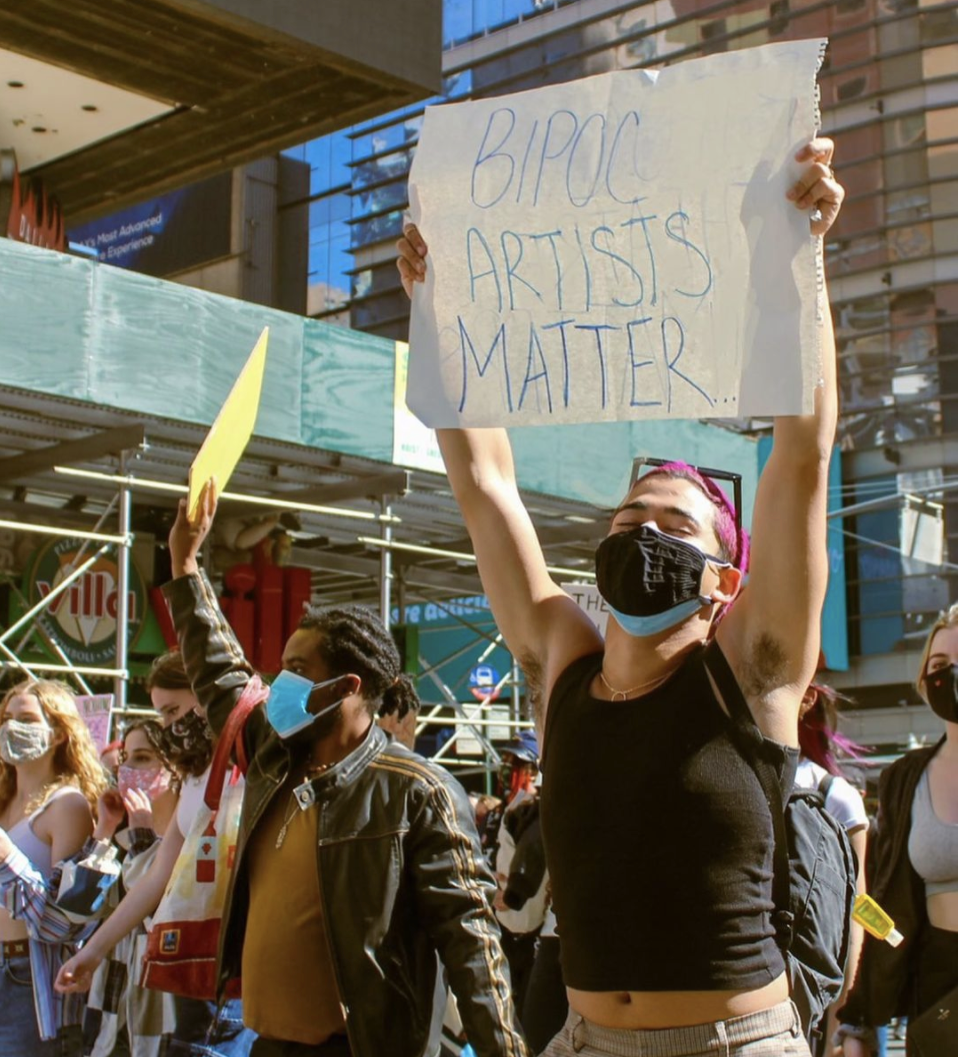 As he allowed the makeup artist to apply his glitter eyeshadow and fill in his eyebrows, Justin Santana Torres knew that his performance in "The Greatest Showman" would be a memorable night for many reasons. He thought about the curtain coming up and the lights highlighting his gorgeous face, and he knew that this was how he could openly express himself. The song "This Is Me" was a perfect fit for his newfound self-expression as a young, queer, male-identifying, Latino. He walked towards the stage and pulled back the curtain to see a large audience containing his friends and peers, but not his parents. He was disappointed that they couldn't come but excited to perform without seeing the scrutiny in their faces. He was not out to his parents and felt that Harrison School for the Arts was the safe space that he needed to feel sane. Then he looked over and saw two faculty members approach him with concerned expressions. They told him he had to remove the makeup or he couldn't perform because the school was not ready for that kind of gender nonconformity.
He later described this scene by saying, "For me, at that time, my parents did not know I was out, so Harrison School for the Arts was like the safest place for me to be myself to my fullest and as a young queer, male-identifying person, I was experimenting with aspects of how to express myself and makeup was one of them. I really thought it was super cool," (Santana Torres).
Santana Torres continued to describe the other instances of discrimination he experienced within the musical theater department at Harrison School for the Arts and stories he had gathered from other students and alumni. He said, "I was struggling financially because I did work performing at Lego Land Florida Resort as a performer there and I was working like forty hours a week on top of school, on top of rehearsals, on top of vocal lessons, on top of dance classes, and none of my fellow classmates were on that same page because most of them did have money or were fortunate enough to have parents who could afford for them to do that," (Santana Torres).
When he attended Harrison School for the Arts, he recalled that there were only three faculty members of color in the entire school. He also said, "while I was attending there was only like two or three people of color in each class," (Santana Torres). Harrison School for the Arts belongs to the Polk County School District, which according to Consensusreporter.org contains 57% white residents, 25% Hispanic residents, 15% black residents, and 3% other, giving the school district a 10% higher rate of white residents than the state of Florida, which is 53%. Santana Torres explained that Harrison School for the Arts holds auditions for admissions from the surrounding Polk County middle schools. While the school district contains a higher percentage of people of color, according to Santana Torres, his school had a much lower percentage of people of color due to the limited resources available for auditions and training.
Racial discrimination is not a singular problem, many performing arts schools have similar issues of profiling and miscasting because of a lack of diversity and inclusion. LaGuardia High School, one of the most prestigious performing arts schools in the country, with alumni including Jennifer Aniston and Timothée Chalamet, recently opened an investigation into a teacher who allegedly harassed a Muslim student and called her a terrorist according to abc7ny.com. Ithaca High School in New York also had instances of discrimination, including an outcry after casting a white student for the role of Esmeralda, a 15th-century Roma woman in their production of "The Hunchback of Notre Dame" according to The New York Times. This resulted in an outcry from students asking for a recasting of the role, or pulling the show altogether.
Colorblind casting, casting roles with actors of any race, becomes problematic when the character's race plays a significant part in the story. Colorblind productions also limit the roles for people of color because many schools have such a small percentage of people of color already, that a majority of the cast lists will be white people. Santana Torres explained, "when colorblind casting, there needs to be representation with different roles which is different than saying, 'We're doing Cinderella, we're colorblind casting.' That's different because no one in Cinderella needs to be Black or White or Asian or anything, it is just a fantasy so it doesn't matter," (Santana Torres). He then explains the better alternative, "Color conscious casting is taking the story and how race can change and represent something instead of ignoring that," (Santana Torres).
After Santana Torres left Harrison School for the Arts he Moved to New York City to attend Marymount Manhattan College in 2020, where he became more involved in social justice. "Attending Broadway Fights Back (a protest against racial discrimination in Broadway) was very life-changing and eye-opening in that our industry still needs change, and we're taught in these predominantly white institutions that our industry is perfect and it's clearly not," (Santana Torres). Yet in May of 2021, he discovered that Harrison School for the Arts would be doing "The Hunchback of Notre Dame", the same show as Ithaca High School, and feared they would also be colorblind casting as well. He wrote an email to the principal describing the harmful effects of colorblind casting and how they should move away from that practice to support the students of color who deserved more opportunities. When the cast list came out, they double-cast the role of Esmeralda with a white student and a black student which outraged Santana Torres. He said, "you have the person to play this but you're still deciding to cast a white person in a role that shouldn't be a white role" (Santana Torres).
He decided to reach out to Broadway Actress and Alumni of the school, Karen Olivo about the casting of the show and how they could generate change. He continued to email back and forth with Olivo about other things that could improve the conditions at the school for people of color and LGBTQ+ students. He said "I do not want to go into the public eye about this, this just needs to be a thing with the school and I, this will do more damage going to the public eye to the students and the school than good. But unfortunately, public pressure is what was necessary for this movement to be moved and for the attention to be brought up," (Santana Torres). So, he and Karen Olivo wrote a petition for Change.org demanding a safer environment for BIPOC students, directors, choreographers, music directors, and staff members, anti-racism training for staff, color-conscious casting, and the removal of white students cast as Roma characters. Ten minutes after the petition was posted he received an email from the principal to set up a meeting.
Santana Torres and Karen Olivo met with the Polk County head director of fine arts, the Polk County's diversity equity and inclusion director, and the principal of the high school to talk about their demands. At the time, Karen Olivo was also talking to members of the Polk County school board about the issues and how they affected not just Harrison School for the Arts, but the entire district. After many meetings, the school board complied with their demands. Santana Torres explained "They did add diversity training...and they added an LGBTQ+ and straight alliance club for all Polk County schools so not even just Harrison School for the Arts. They created an open position for a board member to become a DEI at the faculty to help have a safe space for those students to bring up concerns, they also reached out to Harrison to create a safe environment for all their students, especially the BIPOC and LGBTQ+ students. They added more diversity and discrimination training at the school... and they will be collaborating with their students in their middle school to create opportunities for them to be able to afford to come to Harrison," (Santana Torres).
Reflecting on these events, Santana Torres said that there's still a lot of change necessary for the industry as a whole to evolve but it's improving with every person that speaks out against injustices. He recalls how moving to New York helped him discover his voice, especially during the Black Lives Matter protests where he met people who shared his passion for social justice. "During my time in New York City I definitely found my voice and I found people who uplifted me and made me feel comfortable in that I am allowed to speak, and I am not to be shut down or shut up by anyone," (Santana Torres) he explained. After leaving Marymount Manhattan College in 2021, he decided to pursue an acting career where he felt valued and could express his identity fully. He signed a contract at Universal Orlando Resort where he performs nightly with a diverse cast that he's grown close with. These experiences have allowed him to recognize how important inclusion is for art to represent reality. He states, "Theater and art to me mean representing what our world is going through and telling these stories to show a story, a meaningful story," (Santana Torres).