Pushing my way through a crowd to reach the bartender in hopes that she can make out my request for a round of tequila shots, I am stopped in my tracks by the sound of a familiar voice. "Yo Perreo Sola" what was sure to be the song of the summer comes blaring over the speakers, and I make a dash back to my circle of friends in order to enjoy this song together for the first time. YHLQMDLG, Bad Bunny's third studio album had just been released, and by the sounds of it, was destined to be played throughout nightclubs around the world, or so we thought. Come late March and our daydreams of experiencing a perreo summer would quickly be replaced with masks, bottles of hand sanitizer, and social distancing.
2020, what was supposed to be Bad Bunny's breakout moment, turned into a summer filled with uncertainty. Unable to tour or promote his new album due to COVID restrictions, Yo Hago Lo Que Me Da La Gana, still managed to peak at #2 on the Billboard 200 chart. Finding success through streams, Bad Bunny cracked the code in this new digital music age. A reggaeton record had become the most successful all-Spanish language album to ever chart. Bad Bunny successfully became the face of the reggaeton revival and he wasn't going to let a global pandemic put a dent in his plans.
While most artists hit the pause button during the early months of COVID, Bad Bunny, or Benito, as his fans like to call him, realized people wanted and craved music like never before. So, come not even three months after the release of YHLQMDLG, Bad Bunny took a chance and published his fourth studio album.
Las Que No Iban A Salir, came as a surprise to everyone. With no formal announcement on the album and just a music platform drop, it still found its way to number 7 on the Billboard 200 chart. Composed of unreleased songs that didn't make the final cut of previous projects, Benito treated his fans to even more perreo anthems that could still be enjoyed, even while quarantined at home.
Instead of making my way to the bar, I found myself making my way to the kitchen to enjoy songs from Las Que No Iban A Salir. Whether it be cooking meals or washing the dishes, dancing along to Bad Bunny's music helped make cyclical routines a bit more enjoyable. Though I will say, max volume on a google home can't really replicate the roaring sound coming from a club's stereo system. However, on the plus side, no one can stop me from playing "Bye Me Fui," an obnoxious number of times.
If it is not apparent already, Bad Bunny is a forced to be reckoned with. Nothing made that more obvious than the release of his fifth studio album. Yup, that's right. If you thought Benito was going to stop at just two albums in this insane year, you must no know what El Conejo Malo is capable of. On November 27, 2020, he introduced the world to, El Ultimo Tour del Mundo, and in true Bad Bunny fashion, this was yet another surprise release. With just a day's warning, Benito uploaded a short trailer previewing the album on his Instagram (@badbunnypr). Opening up with a press conference, Benito states that he has made the decision to retire from music causing an uproar on Twitter like no other.
"If Bad Bunny is serious about retiring after his next album, Ima retire from life. - @lessucrito
"Bad Bunny better be trolling with that retiring bs this year been bad enough." - @vuhsace
While there is still no legitimate proof of his retirement, with the number of accomplishments and records broken and collected, if he chooses, he would retire being on the top of his game. In fact, Bad Bunny recently made history with his latest album by soaring straight to the top of the charts. El Ultimo Tour del Mundo is the first Spanish language album in almost 15 years to take the number one spot, according to Billboard. Looking back at it all, it seems unreal that in the span of 10 months, Bad Bunny lost no momentum and was able to release three albums, all reaching top 10 status within the Billboard 200 chart.
So, it only makes sense that he was announced as the top streamed artist of 2020 via Spotify. With 8.3 billion streams racked up in the past 12 months, it seems as if not even a global pandemic can get in the way of Benito's success. But just how did we get here? How did El Conejo Malo take over the music world at such an unconventional time?
I first heard of Bad Bunny about four summers ago. I distinctly remember riding passenger in my cousin Ivan's little white scion when the song "Soy Peor" came on. I was intrigued by his voice right away but even more so by his name. I initially couldn't stop laughing at the thought of an artist choosing the stage name Bad Bunny, thinking, how does he expect to be taken seriously? My cousin has always been the type to like very unorthodox smaller artists, though he also has this talent of discovering musical artists before they hit big. At the time, I just thought with a name like Bad Bunny and the basic trap beat that was being replicated by everyone at the time; he was bound to be just another one-hit-wonder guy in my cousin's Summer 2016 playlist. Boy, was I was wrong.
Continuing to publish singles, it wasn't until two years after my first encounter with the artist that he released his debut album X 100pre. Sticking to the familiar trap sounds that can be found in his early songs, Bad Bunny experimented a bit more this time around with reggaeton flows and synthpop beats in his journey to finding his sound. Almost like the crowning jewel of the album Bad Bunny scored a song with the biggest music star of the time, Drake. Topping the charts month after month that year, Drake was the perfect collaboration for Benito to make his first steps into the English music world. "Mia" stayed on the charts for a whopping 33 weeks and helped Drake surpass The Beatles recent record for most top 10's in a single year.
Usually, what would take an artist years in their career to do, Bad Bunny managed to get done in just two as a signed artist. While "Mia" was riding the charts, a second project that Bad Bunny was involved in, "I Like It" by Cardi B, was hitting number one all over the world. With help from Bad Bunny and J Balvin, "I Like It" was turning out to be the song of the summer. It was through these two projects that Bad Bunny broke into, as he calls it, "the gringo market."
In the past, reggaeton artist's I grew up listening to at family parties like Daddy Yankee or Don Omar, who were known mostly for their hits like "Gasolina" and "Danza Kuduro," centered a lot of their music around woman, dancing, and just having a good time. What I find different about Bad Bunny is that while still sticking to that reggaeton framework, he has found success by altering it a bit and making it his own. One of his most famous songs, "Yo Perreo Sola," became a power anthem for Latinas like myself around the world.
"En el perreo no se quita Fuma y se pone bellaquita Te llama si te necesita Pero por ahora está solita Ella perrea sola."
To give you a rough PG-13 translation of the lyrics, they say something along the lines of, "You won't be able to get her to stop dancing / Smoking and feeling herself, she will only call you if she needs you /but for now, she wants to be alone / She dances alone." Any woman who has gone out to dance knows the struggle of having to deal with entitled men that feel the need to invade your space while you're just trying to have a good time. "Yo Perreo Sola" sends a clear message throughout the song, to respect a woman's choice to dance alone.
Now instead of taking the traditional route that reggaeton music videos tend to travel, filled with partying, drinking, and half-naked woman, Benito chose to go a different way. In not only staring in but directing the music video, he had full creative control and really made sure to produce a visual statement that would stick with the audience. In reiterating this message of respecting a woman's choice to dance alone, Bad Bunny dresses up in a number of drag ensembles and both figuratively and literally dances by himself. Ending the video with a clear declaration in bold, bright red lettering, Benito states to all 435 million viewers, "Si no quiera bailar contigo, respeta, ella perrea sola." Translating to, "If she doesn't want to dance with you, respect her, she dances alone."
In a way, it wasn't surprising to me that Benito would do something as bold as this for his first visual off of YHLQMDLG. When he first came out on the scene, Bad Bunny was right off the bat unapologetically himself; in his words, music, and fashion choice, no one in the Latinx music market was expressing themselves the way that Bad Bunny was. In my opinion, Bad Bunny became the face of this new Latinx generation because, like many young Latinx are doing, he is carving out a place for himself in a world that wants so often wants to confine people to a singular category.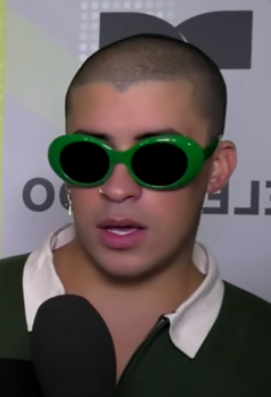 In the past, Bad Bunny has been criticized for his non-conforming gender role actions and outspokenness on political issues, but the critics are small compared to the praise received. As a young gen z/millennial, Benito tends to hold the same values and concerns that my generation prioritizes. Being so boldy himself is what separates Bad Bunny from the crowd and what helps him connect to an audience that is trying to follow in his footsteps of noble self-expression and resilience in this ever-changing world.
From his bright nails, which he always shows off ever so proudly, to his vocalness on the importance of voting with the recent election, Benito uses his platform in ways that more stars should. Whether he knows it or not, Benito is a part of this new generation of leaders that are knocking down walls and bringing about change in the world. In one of his last performances before lockdown, Benito used his appearance on The Tonight Show with Jimmy Fallon to call attention to the unjust and brutal murder of Alexa Negron Luciano, a transgender woman from Puerto Rico. https://youtu.be/29IskNnOv10While performing with fellow Latin artist Sech, Benito sported a long skirt, oversized pink blazer, and a shirt that stated in bold letters, "Mataron a Alexa. No, a un hombre con falda." This can be translated to, "They murdered Alexa, not a man in a skirt."
El Conejo Malo has made such incredible strides not just within the music industry but within life. He has achieved what so many of us only dream of and all before reaching his 27th year. While it is true that the numbers speak for themselves, to me, it would be unfair to measure his success in just the amount of streams or the total number of sales and tickets sold. Benito has tapped into a different level of success, one that is timeless, by creating art that feels fresh, relevant, and personal. Bad Bunny has produced the soundtrack to so many memories and shared moments of happiness and even heartbreak. His authenticity in his expressiveness has pushed those to come out of their shell and feel more comfortable in exploring their own identity. Benito Antonio Martinez Ocasio has proven time and time again that he is always growing and evolving, much like the world we are living in today. So, it's exciting to think of what else he is capable of and is going to gift the world with in the next upcoming years.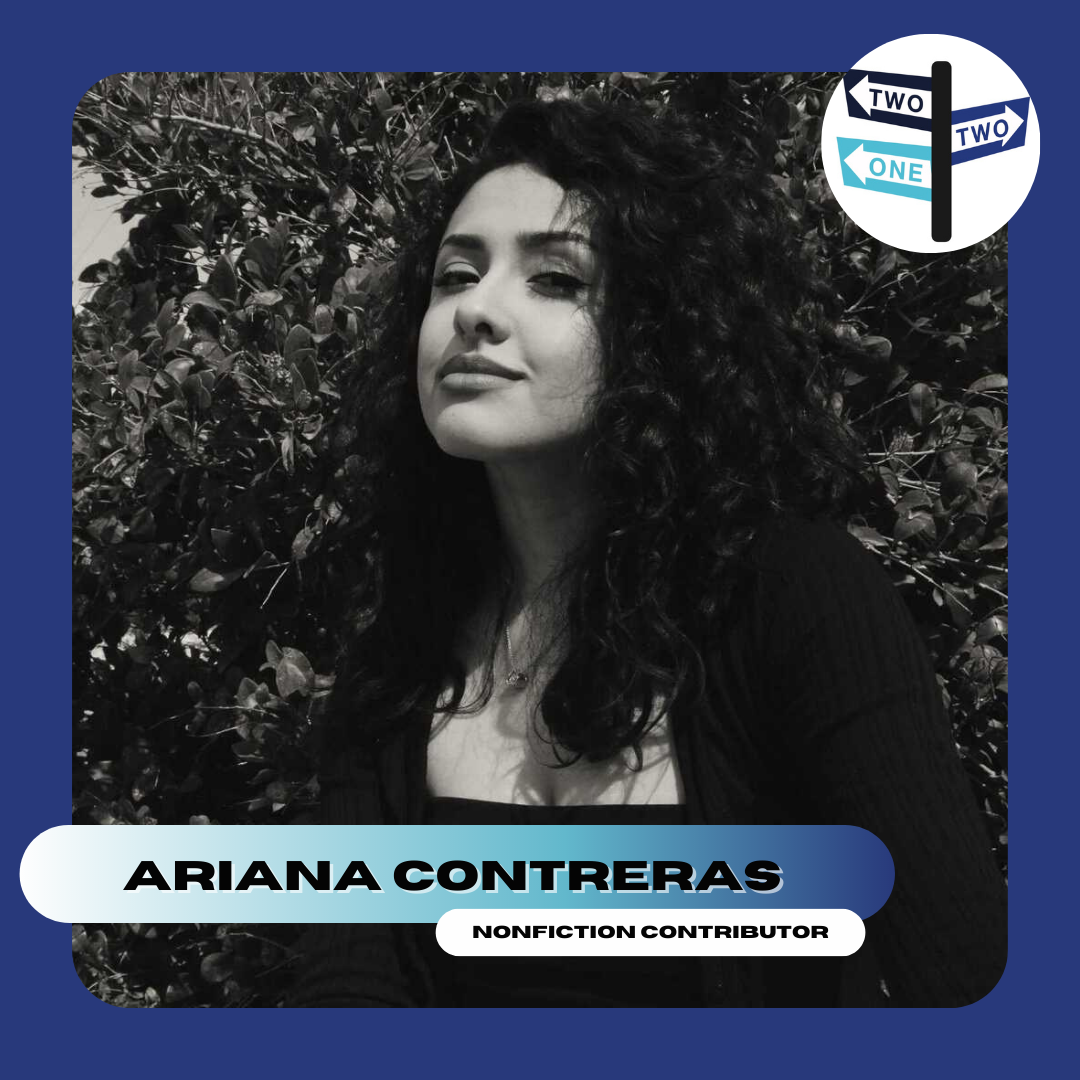 Ariana Contreras is a graduating senior majoring in Digital Journalism with a minor in Politics and Human Rights. As a creative and self proclaimed storyteller, she uses outlets like twotwoone to help produce multimedia content to engage and connect with people everywhere. If she's not finding new story's to share with the world, you can find her trying out new recipes in the kitchen or taking a run around the neighborhood.